4 Winter Holiday Destinations in SA
Posted June 5, 2016 by
Woman Online
in
Travel
This country boasts some fantastic, and affordable, snow-lined winter holiday spots.
And the best part is there are options to choose from, be it for families during the school holidays, a quick escape with friends from the bleak, wintertime cityscape, or even a cosy retreat for you and someone special to snuggle.
Tiffindell Ski Resort
Probably the most well-known winter wonderland in the country is Tiffindell Ski Resort, high up on the slopes of Ben Macdhu, in the Eastern Cape.
In summer the resort offers skiing on grass, which is more fun than you might imagine. But in the winter months, Mother Nature (helped along by snow-making machines) coats the resort's top-rated ski run with snow for the entire season.
And if skiing isn't for you, there is plenty else to do. Snowboarding, tobogganing, making snowmen. Or fun snowball fights. Even just taking in the splendour from the warmth of the restaurant is an enjoyable experience.
Tankwa Karoo National Park
The Karoo is another place that's often blanketed with snow, if you know where and when to go.
Sutherland, famed for hosting the Southern African Large Telescope Array, gets its fair share of snow in winter. Other than the potential for stargazing in the snow, this tiny Karoo town is within reach of the Tankwa Karoo National Park, with its spectacular mountain views, 4×4 trails and game drives.
Golden Gate Highlands Park
Further inland, the Golden Gate Highlands Park in the Free State offers chalets and log cabins from which to explore the winter landscape at its finest. Temperatures can drop to as low as -15 Celsius, so the quaint resort town of Clarens has accommodation options, including a four-star Protea Hotel and a few guesthouses, if you want luxury and comfort alongside your experience of nature in the snow.
Matroosberg Mountains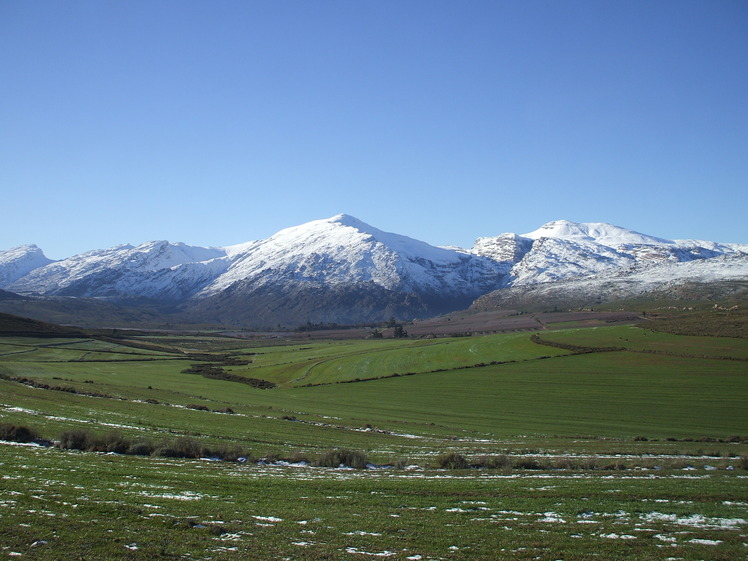 Over in the Western Cape, the Matroosberg Mountains near Ceres is within reach of Cape Town. It's not even yet officially winter but the region has already recorded its first snowfall and more is expected as the season progresses. There's a private ski slope and nature reserve in the area, along with options for farm tours, hiking and 4×4 trails.
Nearby, tucked between the Matroosberg and Hawequas mountains, the sleepy town of Worcester offers spectacular views of snow-capped mountains. Franschhoek, on the other side of the Hawequas, does too. The vineyards and farms in the area, the biggest wine-producer in the country, are always nice spots from which to take it all in, as is the local Protea Hotel with its views of the mountains and their white winter blankets.
Of course timing is key if you want the experience of being there where the snow falls in any of these areas. But if you get it right, you're sure to be quite pleased with how much in experiences the Rand can still get you.
Woman Online adapted press release.